Dick Riggleman (emeritus)
---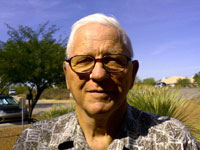 Dick was born in Buckhannon, West Virginia on October 2, 1933. As a child Dick and his sister walked two miles to a country Baptist church. At the age of sixteen Dick was baptized, and joined this church. He joined the Air Force in 1952. After basic training was conducted at Sampson AFB, Geneva, NY, his first assignment was to Tech School at Amarillo AFB, Amarillo, TX and from there to Dow AFB, Bangor, MN. After two years at Dow AFB, he was sent to Tinker AFB in Oklahoma.
While stationed at Tinker, Dick met a young lady, as sister of his best friend. This was during the summer of 1955 when Mary came from Nixon, PA to visit with her brother and his wife. To Dick it was love at first sight. Mary wasn't so sure, but God changed her mind. Dick and Mary were married after Dick's discharge from the Air Force on September 3, 1956.
They lived with Mary's folks on their dairy farm. Mary worked in Pittsburgh and Dick worked as a farm hand for about a year. Dick was able to get a job with Westinghouse and they moved to Cheswick, PA to be near the plant. While living in Cheswick, Dick and Mary were blessed with the birth of their first son Paul on June 18, 1957. While serving in the USAF Dick had attended services on base. During the time he was living at the home of his wife's parents he attended a covenanter church, where his wife's grandfather was the pastor.
In April of 1958, the Atomic Fuel Dept at the Cheswick plant was closed down for an undetermined length of time. Dick then rejoined the Air Force and moved with his family back to Tinker AFB. After a short time, Dick was deployed to Morocco. He moved his wife and son back to Nixon, PA to live once again with her parents. Mike, Dick and Mary's second son, was born March 21, 1959, shortly after the move back to PA.
The trail for Dick led from Morocco to Germany. He was able to bring his family to Germany until Dick was sent back to the States to be stationed at Lockbourne AFB in Ohio in 1960. Their daughter, Lucinda, was born in August of 1962. While attending Williams Road Presbyterian Church (USA), in Columbus, Dick was elected, ordained and installed as a ruling elder during the summer of 1962.
The USAF trail brought Dick and his family to Tucson and Davis-Monthan AFB in 1967, where they joined Covenant Presbyterian Church USA. While at Covenant, Dick was elected, ordained and installed as a deacon.
After Desert Springs was formed in 1977, Dick was elected, confirmed and installed as a deacon in the PCA. In January 1990, he was elected, confirmed and installed as a ruling elder in the PCA. He has been an active member of the session at DSPC since that time.
Dick's wife Mary died in 2001 after 45 years of marriage. Dick's children are all married, with two living in the Tucson area and one in Smithfield, VA. Dick has six grandchildren between the ages of 14 and 25.